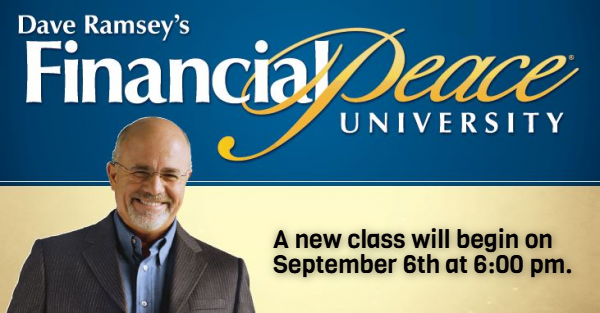 "We all need a plan for our money. Financial Peace University (FPU) is that plan! It teaches God's ways of handling money. Through video teaching, class discussions and interactive small group activities, FPU presents biblical, practical steps to get from where you are to where you've dreamed you could be. This plan will show you how to get rid of debt, manage your money, spend and save wisely, and much more!"

*
In this class, you will learn the 7 Baby Steps that will show you step-by-step how to create a budget, pay off your debt, make wise spending decisions and save for the future. Each class will feature a video and group accountability time.
This class is led by Michelle & Dean Blackburn.
Financial Peace University lasts for 9 weeks and each session is around 1 1/2 hours. The cost of the course is approximately $100 per family. The first class is free and prior participants are welcome to attend.
*

Source: www.daveramsey.com