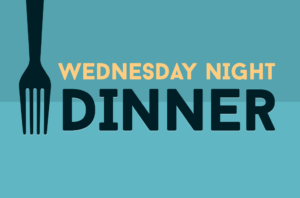 Make your dinner reservation here!
(Special monthly themed dinners are free; donations accepted to support the ministry hosting)
WEDNESDAY NIGHT DINNER WILL BREAK FOR THE SPRING/SUMMER!
DINNERS WILL RESUME IN THE FALL.
Prayer Meeting
Pastor Farley Stuart
Every church runs on the power of prayer and praying people. On Wednesday nights beginning in January, Pastor Farley will lead an informal time of group Bible study, lifting praises and prayer. You may have that opportunity to ask a biblical question you have always wanted to ask and together we will hope to seek out the answer. "If my people, which are called by my name, will humble themselves and pray, seek my face and turn from their wicked ways. Then will I hear from heaven and heal their land." 2 Chronicles 7:14
Details:
Meets Wednesday nights beginning at 6 pm in the Parlor (location subject to change). All adults are invited to attend. No advanced preparation required. (This class is on break and will begin again in the Fall.)
S.O.A.P. (Scripture, Observation, Application & Prayer)
When you read the Bible, do you underline or make notes of verses that jump out at you with special significance? This is the basis for diving deeper and using S.O.A,P. Learn how to apply it so it affects your life today.
Details:
This class requires no preparation, just show up and participate! It will meet every Wednesday beginning at 6 pm through the summer at the Main Street Campus. All adults are invited to attend.
CHILDREN & YOUTH OPPORTUNITIES
Wednesday Night Children & Youth Opportunities are on break until Fall.
Open to children 3 years through 5th g

rade
Kingdom Builders will include Bible stories, memory verses and cool activities where kids will recreate miniature versions of Bible stories using wood block sets and miniature Bible people that they will make.
Our Wednesday Night program is an action-packed night where kids realize that church is fun and God's love for them is real! This is a time for kids to build relationships with other children and also with adults in our church who will love and encourage them in their relationship with Jesus Christ.
5:30 pm dinner in Fellowship Hall. Small groups begin at 6 pm.
5:30 pm dinner in Fellowship Hall. Small groups begin at 6 pm.