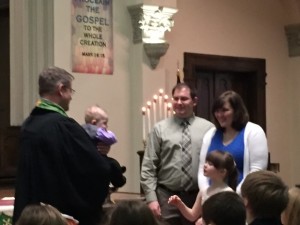 On Sunday, March 13th, we joined with the Pratt Family (Elliott, Katie & daughter, Caroline) as they celebrated the baptism of the newest addition to their family, Conner. Here are a couple of pictures so you can share in their joy as well!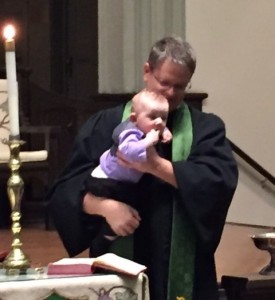 Holy Week services kicked off this week with our traditional morning service & breakfast. If you haven't visited with us this week, you have many more opportunities to join us, as we have added services this year.
Wednesday-Friday morning at 7:00 am at the S. Main Campus. Each morning features a community speaker, special music and is topped off by breakfast and fellowship downstairs.
Tuesday & Thursday evening at 6:30 pm at First Fire. Join us for evening services. Tuesday's special speaker will be Robbie Shrout and the music will be provided by the Dunaway Praise Band. Thursday evening will feature a special Children's Maundy Thursday & Easter lesson. Thursday's speaker will be Kevin Parido and the music will be provided by members of the First Fire Praise Band.
Wednesday at 12:15 pm lunch service at First Fire. A light lunch will be served.
Good Friday night at dusk (approximately 8:00 pm) in the garden at the S. Main Campus, 3D Youth will present it's annual "The Crucifixion". This has been a tradition of Winchester First for over 50 years! A brief worship service and Holy Communion are held in the sanctuary following the scene.
Please join us as often as possible this week and invite others to join you, so that others can hear the Good News story of Jesus!