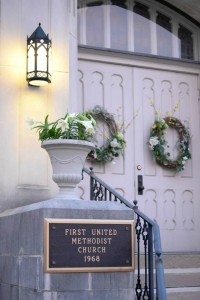 The Upper Room is a friendly, loving group who comes together around Bible Studies. At present the study is on the book of Jude using the Inductive Bible Study Method. The Upper Room meets in the Conference Room on the first floor, is open to all adults and can be joined at any time.
The Friendship Class reads the Bible line by line and discuss what we've read. Currently this class is reading the Book of Psalms. It really is a "friendship" class and we all learn from each other. The Friendship Class meets downstairs in Room B4, is open to all adults and can be joined at any time.
The Servants class is a discussion oriented group made up mostly of 30-50 year-olds. We are currently using a video series called Nooma, which begins with a video followed by a discussion. The servants class meets in Room B2 downstairs and can be joined at any time.
Children & Youth Offerings
Sunday School is offered for children ages 3 years through 5th grade upstairs in the Children's Education Area.
Our youth classes are divided by Jr. High & Sr. High and meet upstairs also.
Classical Worship Service: 10:15am
204 South Main Street
(Sunday School preceeding at 9:00am)
WHAT TIME DO YOUR SERVICES START?
Our worship services begin at 10:15 am on Sundays.
HOW DO I GET TO YOUR CHURCH?
Our address is 204 S. Main Street, Winchester, Kentucky.
WHERE DO I PARK?
There is a parking lot located behind the church off S. Maple Street. There is also street parking located around the church building, off Main Street and Hickman Street.
If you park in the lot behind the church, enter through the door under the tan awning. Follow the hallway to its end and the sanctuary is to your left. If you park in the side parking lot, you can enter through double doors under the tan awning. Go straight to get into the sanctuary.
We also offer a side entrance off Hickman Street. Once you enter this side door, go to the left and up the steps to enter the sanctuary.
The front doors of the church (S. Main Street) are open until service begins. Once you come in the front door, you can go either right or left to find the doors that lead into the sanctuary.
WHERE DO I SIT?
As you enter the sanctuary you'll see a large worship space with traditional wooden pews complete with hymnals and bibles. You are welcome to sit in any of the pews – up front, in the back or anywhere in between.
WHAT HAPPENS IN A SERVICE?
The classic worship services at First UMC begin with a greeter at the door welcoming you to worship and an usher providing a bulletin
FUMC uses the United Methodist Hymnal. We often have special music provided by our choir or other musicians. Our liturgy is interactive and gives congregation members an opportunity to sing and respond in a corporate fashion within the service. The sermon lasts approximately 25-30 minutes and will include both sermon series and stand alone sermons.
We celebrate Holy Communion normally on the first Sunday of each month. Holy Communion is open to everyone and we believe Christ invites all to His table who love him and earnestly repent of their sin.
WILL I BE ASKED TO GIVE MONEY?
We do collect an offering during worship, but it is for our members and regular attendees. If you are a visitor/guest, please do not feel obligated to give. All $1 bills and changed placed in the offering basket each week goes to support our Dollar Disciples ministry. We ask for just $1 extra each week and that money is collected and used to make a change in the lives of those who need it in the community. Dollar Disciples has helped numerous people in their times of financial need.
WHAT DO MY KIDS DO?
Children are welcome and encouraged to attend worship. There is a children's sermon midway through the service and then they are invited to attend children's church.
DO YOU HAVE COFFEE?
Yes! We offer free coffee (Creative Coffees) & donuts (Frank's Donuts) outside of the sanctuary. Please feel free to help yourself!
WHAT IF I HAVE QUESTIONS?
Our Information Desk, located outside the sanctuary, has a variety of up-to-date information on our ministries and events. A friendly face is always there to answer any questions you may have!
A Look Inside

CHANCEL CHOIR
Director: Anne Willis
The Chancel Choir is an integral part of worship and ministry at Winchester First. The choir, consisting of 20 singers, meets weekly to rehearse special music appropriate for each specific season of the church year. Our rehearsals are filled with singing, laughter and prayer as we prepare ourselves and our music to bring glory to God in our worship services. It's a warm and inviting place to be each Wednesday at 7:15 pm. If you are interested in joining, we would welcome you with open arms! For more information, contact Anne Willis, Director of Music Ministries at 419-989-5474 or benlabannie@yahoo.com.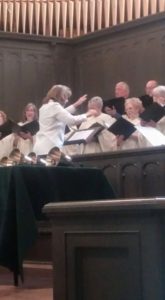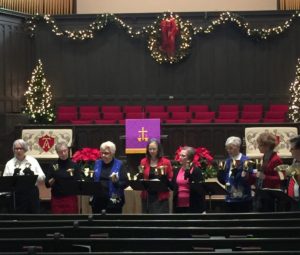 CELEBRATION RINGERS
Director: Peggy Case
Our Celebration Ringers handbell choir currently include 13 ringers and 4 octaves of handbells. The handbell choir meets for practice each Wednesday evening at 6:15 pm in the choir room. Celebration Ringers are active from September through May and ring in morning worship at the Main Street Campus about once a month. This group is directed by Peggy Case. For more information, contact Peggy through the church office at 859-744-5410.